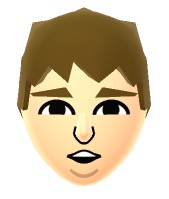 Xiboin is a CPU Mii.
Wii Sports
Edit
Xiboin's level in Boxing is 1001 and is a Pro. In Tennis his level is 9133 and plays with Quixa. In Baseball His level is 30 His team is Rita, Wogel30, Xong, Melon, Togona, Furtam, Chicken, Hix.
Wii Sports Resort
Edit
In Table Tennis his level is 1111. In Swordplay Xiboin's level is 6340. In Basketball he is not so good. His skill is only 299. His Basketball team is Vince and Ji-ven.