Togana is a CPU Mii.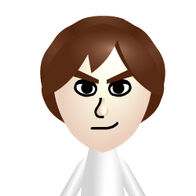 Wii Sports
Edit
In Tennis she plays with Rita or Herem. Her level is 4. In Boxing her level is 4. In Baseball her team is herself Lox, Hix, Melon, Ika, Xong, Herbomik and Shinta 2.
Wii Sports Resort
Edit
Her level in Basketball is -99. In Speed Slice she needs 15 minutes to slice an object. Her skill is -830. In Cycling she is always in the last place. In Table Tennis she is afraid of the ball and runs away that's why she is so bad. Sometimes she falls into the pool when running away from the ball. Togana is a very terrible swimmer, she thinks she is a good swimmer but she is not and it takes her a year to make it from one end of the pool to another and drowns most of the time. Her skill is -498.