Tixata
is a Mii from Wii Sports, Wii Sports Resort and
Wii Sports Club
.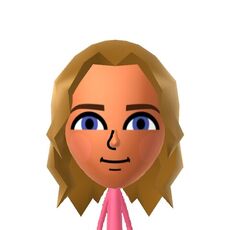 Wii Sports
Edit
In Tennis she has 1 skill point more then Elisa. Her level is 2001. In Baseball she is good and plays with Kaxi, Unacto, Merome, Yaut, Shinta 2, Vaxumium and Lexi. Tixata's level is 400-403. In Boxing her level is 9148 and is a high Pro.
Wii Sports Resort
Edit
In Swordplay she is not good. Her skill is only 333. In Table Tennis her level is 9145-9147. In Basketball Tixata is a Superstar and plays with Fasbi and Vince. Her level is around 2250.
In Tennis her Grade is ★15 because she is so thin like a stick. She can't be seen in Baseball. In Boxing she is good. Her Grade is 5.
Ad blocker interference detected!
Wikia is a free-to-use site that makes money from advertising. We have a modified experience for viewers using ad blockers

Wikia is not accessible if you've made further modifications. Remove the custom ad blocker rule(s) and the page will load as expected.