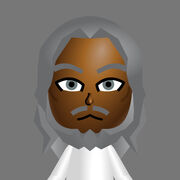 Silver
is a male Mii. He is good in sports. We don't know much about him.
Wii Sports Club
Edit
In Tennis, his grade is ★8,765,432,100. In Boxing he is unknown. In Baseball, Silver's grade is -★2016. In the year 2017, his grade will be -★2017. In 2018, -★2018 etc....
His favorite color is silver because his name is 'Silver'.