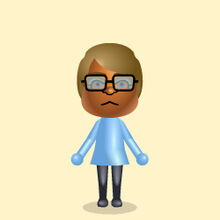 Wii Sports
Edit
In Tennis She is at level 385 and plays with Xixkix or Taylor
Wii Sports Resort
Edit
In Swordplay She is at level 0 The worst
In Basketball She is at level 100
But In Table Tennis She is a PRO at level 1009
Wii Party
Edit
In Wii Party Sasha is a Beginner Mii
Wii Sports Club
Edit
Sasha is a PRO at all the sports, putting her bad skills down.
In Tennis she is at Level ★6.
In Baseball she is at Level ★5, faced at Level ★4, along with Anna.
In Boxing she is at level ★2.
Wii Party U
Edit
In Wii Party U, she is a Expert Mii and changed her skill higher.
Sasha is not good at any sport in Wii Sports Resort, not Table Tennis.
Sasha is only a PRO In Table Tennis In the Wii.
Sasha is one of the very few miis to Never be a PRO at much sports in Wii Sports and Wii Sports Resort, but become a PRO at all of them in Wii Sports Club.