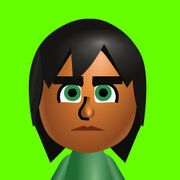 Obeni is a Mii from Wii Sports and Wii Sports Resort.
Wii Sports
Edit
. His skill in Tennis is 25 and plays mostly with Matt,and Miyu,. In Boxing his level is 20.
Wii Sports Resort
Edit
In Basketball is Level is 552. His skill in Table Tennis is 16. In Swordplay is his skill 15.
Tennis: 25
Boxing: 20
Swordplay: 15
Table Tennis: 16