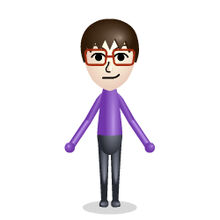 Maxi20 is a CPU Mii.
Wii Sports
Edit
In Tennis his level is -873 and plays with Wogel30 or Zubi10. In Baseball his level is -20. In Boxing , his level is -405.
Wii Sports Resort
Edit
In Swordplay, his level is -225. He is the boss of Level -3 in Showdown. In Basketball level is -12 and has Miguel and Anna by his side. His level in Table Tennis is -1.