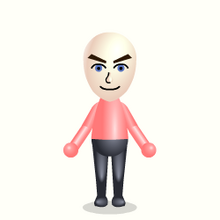 JoJo is a horrible CPU Mii.
Wii Sports
Edit
In Baseball, his level is -500 and has himself and Henry on his team. He has to alternate between himself and Henry so that there are "JoJo ghost runners" and "Henry ghost runners". In Tennis his level is -1000 and plays with Henry. In Boxing his level is -776.
Wii Sports Resort
Edit
In Swordplay Duel and Speed Slice his level is -2158. In Basketball, his level is -2242 and plays with Henry and Geoos. In Table Tennis he uses a hotel slipper ("bup" paddle) but he never hits the ball. His level in that is -1260.