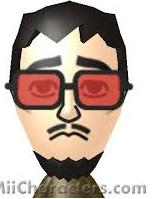 Akira 2
is a
CPU Mii
.
Wii Sports
Edit
In Tennis his level is 38100 and plays with Noval or Misy. In Baseball his level is 1553. His team is Cathy, Skylox, Addy, Merome, Abira, True MU and Sky. In Boxing his level is 26911.
Wii Sports Resort
Edit
In Table Tennis his level is 390+. In Basketball his skill is 9844 and plays with Fatso and Nellie. In Swordplay he is the 3rd worst. His level is -276.
Akira 2 is in the 16th place in the Best Miis page.